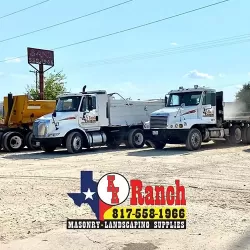 At KK Ranch Stone & Gravel, our dedication to superior customer service and quality products has always been "Our Promise" of service to our customers. KK Ranch Stone & Gravel supplies high-quality sand, gravel, and rock throughout Johnson County, Texas from our facility in Cleburne, Texas since 2004.
Here you'll find an experienced team that puts safety first, along with superior service and dependability. Whether you're looking to prepare a site for construction, fill in a sink hole, build a pool, install pavers, or level a lot for building, our top quality products will get the job done right.
Our knowledgeable, professional sales team will guide and educate you through your purchase to ensure that you understand all aspects of your roadbase, rock, sand, or gravel. Our aggregate is utilized in construction projects ranging from roads and concrete to smaller scale jobs like garden landscaping and outdoor patios.
Sand - Stone - Gravel Delivery
KK Ranch Stone & Gravel carries products like mulch and river rock for gardens, masonry sand for pool installations, and gravel for construction projects. We having trucks that are able to deliver large quantities of our road base, landscaping materials, top soils, and just about any type of gravel you may need for tough duty projects like paving driveways and more.
You'll also find well-maintained, high-production equipment that makes our process faster and safer. From product quality and customer service to equipment maintenance and safety standards, we take pride in a job well done. Products are available for delivery or you can pick up by the yard of screened material.
Homeowners, builders, developers, and landscaping contractors can always rely on KK Ranch Stone & Gravel to provide top quality landscape and masonry materials at the most affordable prices in Johnson County, Texas and the surrounding area!