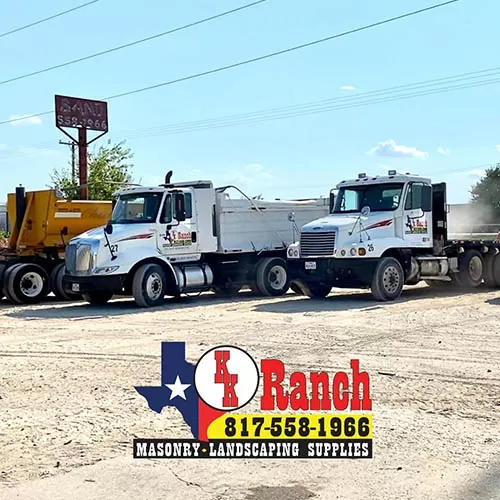 KK Ranch Stone & Gravel offers road base for driveways, stone, sand, remix, and gravel for the general public, contractors, masons, road crews, and landscaping companies. KK Ranch Stone & Gravel delivers all of our products Monday - Saturday. 
Whether you are needing gravel, topsoil, boulders, or any other product that we carry, we can deliver it to your job site.  We serve Cleburne, Joshua, Burleson, Alvarado, and all of Johnson County and the surrounding areas.
From the most popular to the unusual, we provide both professionals and homeowners a large selection of both natural and man-made stone products. KK Ranch Stone & Gravel has one of the largest selections of gravel in Johnson County including decorative gravels for driveways, walkways, and planting beds as well as drainage gravel.
The natural colors and variety of sizes of our sand and gravel products are sure to meet the needs of your project. Do-it-yourself homeowners and contractors can purchase materials at a bulk rate. We provide delivery in a reasonable time frame and for an affordable price. 
Our trucks are capable to carry multiple quantities to save you time and money. We offer 12 yard loads for delivery. Our delivery charges are based on mileage. Delivery fees also apply to yard loads under 12 and with palletized stone, chopped stones and builders stone.