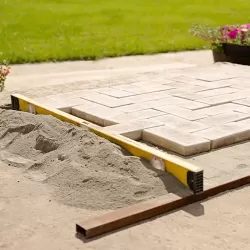 Now that we're in the thick of backyard barbecue and outdoor living season, KK Ranch and Stone knows how important it is to have your property in tip top shape. After all, you want the place where you'll be spending the most amount of time to be the best it can be. At KK Ranch and Stone, we have all the sand, stone and gravel you need to turn your backyard into a sleek and sharp hangout zone. 
One of our top selling products is our sand. Our Brown Brick Sand has multiple uses and can be used in many different backyard projects. Because of it's fine texture, our Brown Brick Sand is extremely versatile for all sorts of projects. It's time to get in your yard and get to work! (With our help, of course)
Base Layer For Your Pool Oasis
We all know that the heat of a Texas summer can be oppressive. With people staying home more than previous years, why not make this the year to turn your backyard into your very own cool-down oasis?
Our Brown Brick Sand is the perfect material to get you going in this undertaking. This material is excellent as an underlayer for above ground pools, giving you the level ground you need to set your pool up the right way. 
Don't let the job stress you out! We're here to help. We offer delivery of our materials. 
Outdoor Play For Kids
If you're a parent with little ones, you know how important it is to come up with fun things to do for your kids to do, especially outside. A great option for outdoor play is a sandbox full of soft sand for kids to play in. 
Our Brown Brick Sand makes the ideal fill for the sandbox of your kids' dreams. This sand has a fine texture, so it won't be rocky and painful when your tots bury their legs or mix it with water to build a sand castle. 
But it's not just for sand boxes. It can also be used as the material to fill around a jungle gym or swing set. Grass doesn't always make the best surround for a playset, but with our Brown Brick Sand, kids will have a soft landing on their way down the slide.
Paver Base For A Garden Paradise 
Nothing increases the curb appeal of a home like a beautiful garden. A great addition to any garden is stepping stones or pavers. 
In order to install these the correct way, you need a layer of sand underneath to keep them level and sturdy. Our Brown Brick Sand makes the perfect in-between-paver material. 
More Uses For Brown Brick Sand 
The above ideas aren't the only ways you can use our sand in your backyard or on your property. Here are some more ideas to get your gears turning on how you can beautify your space with Brown Brick Sand.
A beachy themed fire pit
Sand walkways throughout your property
Backyard Zen Zone (commonly referred to as a Zen Garden)
Sand volleyball court for ultimate summer fun
Now that we've given you some food for thought, it's time to talk with us about the sand to get your backyard in tip-top shape for the months of outdoor relaxing still to come.