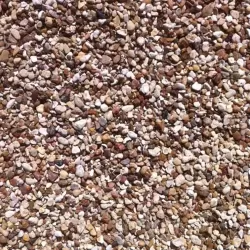 Some people see pea gravel as simply small rocks, when in reality, it has numerous uses and is very visually appealing for home projects. Because pea gravel is formed by natural erosion it comes in natural colors such as browns, grays, and whites making it very versatile in its use and placement.
Furthermore, since pea gravel is found near water, the erosion of the stones gives them unique ornamental shapes and decorative value.  In addition, pea gravel is inexpensive making it a desirable and decorative ground cover. KK Ranch Stone and Gravel has a large selection of gravel to meet your needs and help bring any project you may have into reality. Here are a few ways you can use pea gravel outside your home or property. 
Driveways and Walkways 
One of the primary uses for pea gravel is on driveways. When these surfaces have seen a bit too much wear and require a little TLC, pea gravel is a great solution. Muddy and rough areas in driveways can be easily patched and transformed with a layer of pea gravel.
In addition to driveways, walkways are often constructed with pea gravel. Taking a nice stroll and listening to the crispy sound of pea gravel under your feet can be relaxing and therapeutic. Creating an inviting walkway using exposed pea gravel offers strength and durability to the surfaces where it is used, all while cutting the foot traffic on your beautiful lawn.
Using colorful pea gravel to add to the visual aesthetic around a pool is also a popular use for these small stones. Pea gravel is not only visually appealing, it is easy on the feet when spending days lounging by the pool. 
Landscaping
Another popular use for pea gravel is in landscaping. Many individuals prefer the look of pea gravel because it offers a natural low maintenance option for outdoor areas. It can be used as a base, mixed with planters, or paired with decorative pavers to create inviting sitting areas. When pea gravel is used in combination with a weed block it aids in the prevention of pesky weed growth helping keep your garden areas looking pristine for longer periods of time. 
Other Backyard Uses
Pea gravel can also be used to help eliminate any drainage issues you may have around your home. It allows plenty of void space for rain to flow away from troublesome areas. It is also perfect on playgrounds. Pea gravel provides an ideal surface for kids to play. Rain and water drain easily keeping the surface dry and mud free. 
Pea gravel can also be used in wall construction. It is optimal for use in both commercial and residential construction. When blocks are filled with grout and pea gravel it creates an extremely strong structure. Whether you are using pea gravel for landscaping, creating relaxing walkways, patching a driveway, or making a children's playground KK Ranch Stone and Gravel has everything to meet your needs.