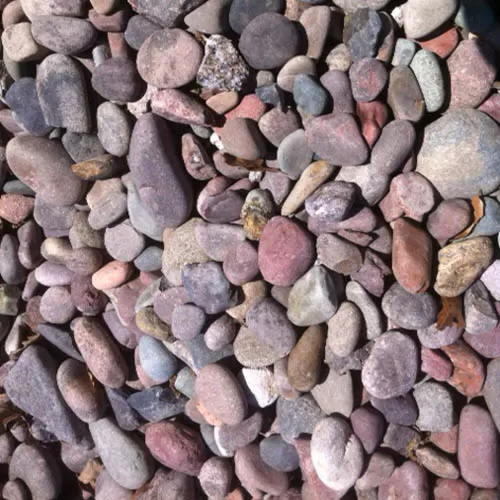 KK Ranch Stone & Gravel carries beautiful Arizona Cobblestones that are a must in any landscape design. Arizona Cobblestones can be used as decorative rock, on houses, in fire pits, fish ponds, and waterfalls. 
Consider using cobblestones as an accent in various flower beds as well. Whether for plants, streams, or other areas, cobblestone is an excellent choice. While plants or water features serve as the chief aesthetic attraction, the cobble rocks add the perfect contrast that can either complement or replace mulch in landscaping situations. 
They're also ideal for edging themes and adding borders. Cobble is also effective in assisting with the blockage of weeds or grass you don't want invading a given area of the landscape. 
Also known as Arizona River Rock, this stone is typified by unusual shades of dusty rose, pale pink, jade green, russet, and dark to light slate. Arizona Cobblestones are great for natural stone accents in your yard or landscape design, or when creating natural stone features such as dry stream beds, ponds, or waterfalls. 
KK Ranch Stone & Gravel carries a wide variety of colors and shades of Arizona Cobblestone, so we make finding one to fit your landscape aesthetic easy.
The Benefits of Arizona Cobble
Available In Multiple Shades
Decorative
Easy To Maintain 
Durable 
Arizona Cobble Can Help
As A Garden Accent
In Water Features
Create Borders
Block Weeds