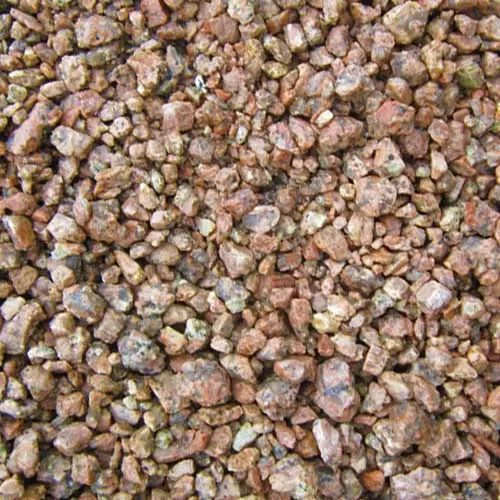 KK Ranch Stone & Gravel offers pink granite which is an excellent choice for your projects. An attractive option for gravel, Fairland Pink Granite, also known as Crushed Pink Granite Gravel, makes for an aesthetically pleasing choice for landscape or driveway needs. 
Crushed gravel is more suitable for a driveway's surface, thanks to its naturally weathered smooth texture. This pink granite can make your driveway stand out, and look truly unique. 
Fairland Pink Granite Gravel can also be used to aid in water drainage. Its irregularity in grain size and shape helps create gaps for water to flow through while still being solid enough to walk on. These qualities make it an excellent choice for walkways as well. 
The qualities of this stone also make it a favorable choice for patios. Crushed gravel can prevent water from collecting and standing. Its appearance also makes it a more visually appealing choice for these outdoor lounge areas as well. 
This particular type of gravel comes directly from the Texas Hill Country and is a lovely mixture of pink, black, white and beige colors. KK Ranch Stone & Gravel is proud to carry this unique and beautiful Texas rock.
The Benefits of Fairland Pink Gravel 
Colorful 
Visually Appealing
Assists in Water Drainage
Fairland Pink Gravel Can Be Used For
Walkways
Patios 
Driveways