Let KK Ranch Stone & Gravel simplify your next project with our trucking services. We offer 6, 12, and 21 yards for delivery. Whether your delivery is large or small, we can find the perfect fit for your project's needs with our fleet of Flatbeds, Tandem Trucks, and End Dumps. 
You've made your purchase, now it's time to get your materials to your site. Let's talk about your packing and delivery options. At KK Ranch Stone & Gravel, we make delivery easier for your landscaping projects with palletized and organized drops to your job site in sacks for a small DIY gardening project or in bulk to your construction site.
We recommend using pallets to deliver natural stones for your landscaping projects such as our patio stones, building stones, or granite slabs. Bulk delivery is a good choice for a large amount of a single material that can be loaded loosely in a truck bed, such as road base #2, select fill, or brown brick sand.
Sacks are great for sites that do not have adequate space to unload loose materials. KK Ranch Stone & Gravel suggest you use sacks to deliver up to 2 yards of materials for your next DIY gardening project like our mushroom compost, 1" washed rock or pea-gravel. 
We Have The Capacity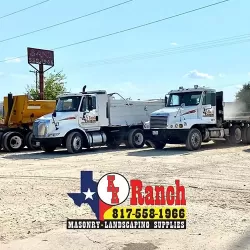 Our flatbed trucks are equipped with a forklift, the forklift takes materials off the flatbed and places it where you want it - even for boulders with some limitations. Our flatbed trucks have a 20-ton capacity and fit up to 14 pallets. We commonly use our flatbeds to deliver palletized materials, and boulders.
Our tandem trucks have a 13-ton capacity. They are suitable for transporting almost all products. 
Our End Dump trucks have a 22-ton capacity and are great for transporting large amounts of product to a job site. End Dumps unload the material on the ground behind the truck. A large open space is recommended for the delivery truck to unload your material. 
Here are some things to consider. All of our trucks require adequate space to maneuver and turn around. Our delivery charges are based on mileage. We have free delivery for gravel and sand if you order 6 yards or more and it is under 12 miles. Delivery fees apply with orders under 6 yards or over 12 miles from our location.
Our fleet of trucks and licensed professionally trained drivers are ready to deliver materials to your project, big or small.