Natural stones have been used for centuries in landscaping and construction. Cleburne contractors, homeowners, and landscapers know that KK Ranch Stone and Gravel supplies the highest quality of natural stones at competitive prices. KK Ranch is a family-owned aggregate supply store with over 18 plus stone choices and 17 plus years in business.   
The experts at KK Ranch want to be a part of your next project. You can rely on us to provide information and inspiration. If you are thinking about improving your outdoor space, consider adding some natural stones to your landscape. Here are five ways you can use our natural stones to add style, dimension, and color to your space. 
Replace Mulch with Rocks
If you replace your mulch with gravel, you'll notice the low maintenance benefits. Gravel has many of the same purposes as mulch, with the added benefit of not replenishing it as often. Small rocks are excellent xeriscaping materials. They let water find its way down to the soil and keep the sun's UV rays out, reducing moisture evaporation. Our white marble rock is excellent around trees, shrubs, and flowerbeds.
Pro Tip: Use rocks to cover trouble spots where the grass just doesn't grow well. 
Pathways, Walkways & Steps

Flagstone is the ideal product for building a beautiful patio space, walkway, or path around your yard that is useful through all weather conditions. KK Ranch Stone and Gravel stocks sandstone flagstone and patio stone. Both are excellent choices for a slip resistant surface. 
Pro Tip: A matte finish sealer will keep your stone's natural appearance and prevent water stains. 
Pond or Water Feature
Natural stones are durable and often slip resistant, making them the perfect choice for pools, ponds, or water features. Some rocks can become slippery when wet, so choose carefully. Stones can also be functional consider installing a french drain to redirect water from your house or a swale to capture rainwater runoff. We recommend arizona cobble for water features. Its shades of dusty rose, pale pink, and jade green will add flair to your water feature. 
Pro Tip: Use different size rocks to give a more natural appearance.
Retaining Wall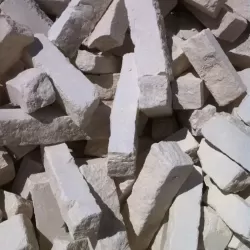 Building a retaining wall is one of the most practical uses of natural stones and the best ways to fix a sloping backyard. Construct a rustic retaining wall with our chopped stone stacked to eliminate the need for concrete. 
Pro Tip: Drainage is an integral part of a retaining wall project. By providing a way for water to escape the retained earth, you increase your retaining wall's lifespan. 
Fire Pit

Spend more time outside this winter enjoying a warm fire in the company of friends and family around a stone fireplace. A well built fire pit can feel like an extension of your living space. When constructing a fire pit, there are several safety precautions to be considered, from the type of stone to the distance from other structures. Consult a professional, or do your research before you start a DIY fire pit project. 
Pro Tip: Call 811 to know what's below before you dig.  
There are numerous ways that you can use rocks in your next landscaping or construction project. Visit our stone yard for the inspiration you need to create a backyard paradise, flagstone walkway, or beautifully landscaped entryway. You'll find a variety of styles and types of decorative stone. Give us a call to discuss your stone choices.