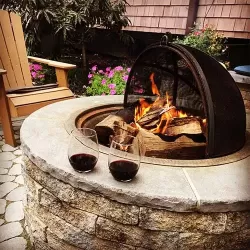 Adding a firepit to your home creates a destination during the cool, winter months. Just because it's winter doesn't mean you can't still get out and enjoy your outdoor space.
Firepits not only add value to your home; they create a place to congregate, entertain, and enjoy fellowship with friends and loved ones. Who doesn't enjoy kicking your feet up after a long day and enjoying a beverage and a bite to eat by an open fire? Constructing your own firepit can seem like an arduous task; however, KK Ranch & Stone can guide you through the process.
The Best Rock Products For Base Construction
We offer numerous options to help create the perfect outdoor space of your dreams. The construction of the base of your pit is important to consider. While you can use bare ground as a base, it can create a messy mush when the ash mixes with dirt and it gets wet.
One solution is to utilize sand instead. Sand is a cost effective, easy heat shield that soaks up heat and evenly distributes it. KK Ranch & Stone offers a general, all-purpose sand that would fit the bill for that purpose.
Another option that KK Ranch & Stone offers for firepits is lava rock. Lava rock is not only aesthetically pleasing, it is also very practical in use. Lava rock holds up well to heat and does not decay. Since lava rock does not deteriorate and is formed under extreme temperatures it is an excellent option for firepits.
KK Ranch & Stone offers visually appealing red lava rock for this purpose. Another excellent option for a base is gravel. Gravel is a nice, safe option for firepits. KK Ranch & Stone offers two separate alternatives for gravel. We offer Fairland Pink gravel and Black Star gravel as options for your firepits. 
Finish Your Firepit With Beautiful Stone 
Once you have decided on the base substance for your firepit, KK Ranch & Stone also offers numerous choices to finish out your outdoor space making it a true thing of beauty. To aid in the completion of the exterior of your firepit, KK Ranch & Stone has everything you need.
We offer chopped stone, building stone, patio stone and even boulders depending upon the aesthetic you want to achieve. All of these options will make your backyard firepit look polished, aesthetically pleasing, and ready to host your friends and family and make beautiful memories.  Whatever look you are wanting to achieve, KK Ranch & Stone has you covered.